Services
Promotion of decarbonization and response to climate change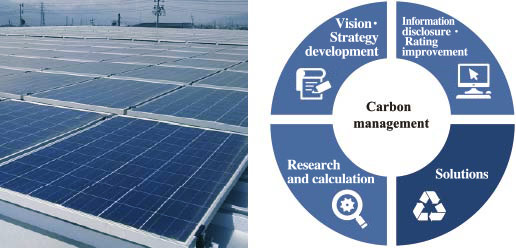 As movements toward decarbonization pick up speed in Japan, it is increasingly important for companies to take the impacts of climate change into consideration in their management, and to adapt to related risks and opportunities as a part of management strategy.
Our group's Bright Innovation Co., Ltd. supports companies in tackling response to climate change. The company is developing consulting services that address carbon neutral strategy, SBT and other goal setting, drafting of CO₂ reduction plans, improvement of CDP and other third party evaluations, and support for response to TCFD recommendations and other information disclosure. The company also provides comprehensive services that include the introduction of renewable energy and other planning of company strategies for emissions reduction.
Accelerating circular economy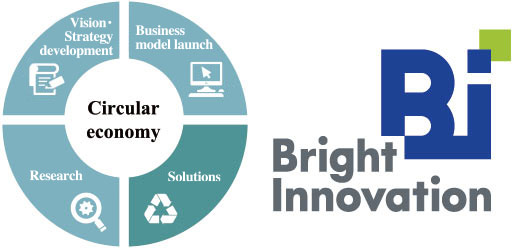 Amid the emergence of issues such as the depletion of material resources, the concept of the circular economy and its importance are becoming widely known. Our Group's Bright Innovation offers consulting services related to the construction of circular economy models for products and the construction of closed-loop circular models through the conversion of plastic containers into recycled materials and the use of recycled materials in containers, as well as chemical and material recycling of plastics.
By collaborating with group companies engaged in the Resource Circulation Business and by proposing solutions that include recycling and remanufacturing, the company provides integrated services that contribute to establishing circular models for companies. By establishing resource recycling and promoting decarbonization throughout the life cycle, we will contribute to create a sustainable society.