Service
Establishing a safe and highly efficient recycling process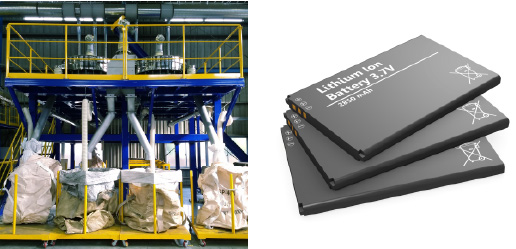 VOLTA Inc. handles the recycling of various types of LIB generated in the market. The physical sorting technologies of The ENVIPRO group are fully applied for the dismantling and sorting of the batteries and the casings. In order to ensure the safety of the neighboring and surrounding environment, we employ a heat-drying method and no incineration in the treatment process so as to minimize toxic gas generation. In addition, we successfully received R2 certification with a view to establishing its position as a responsible recycler in February 2021.
Production of black mass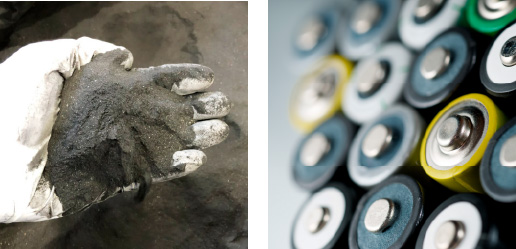 By discharging, drying, shredding, and sorting LIB, we produce a concentrated material containing cobalt and nickel, which is called black mass, and recycle copper, aluminum, and other materials. We are refining the black mass in-house in the future and considering for sale of the materials to the battery-related manufacturers.
Recycling of electrode materials and used casing other than batteries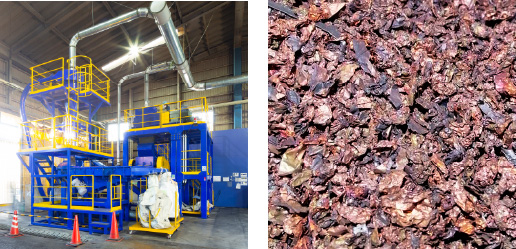 Also from cathode and anode materials, with efficient sorting methods, we produce black mass, copper and carbon. The casings and accessories that construct the battery are also comprehensively recycled using the Group's know-how and technology.
Towards the realization of from battery to battery closed loop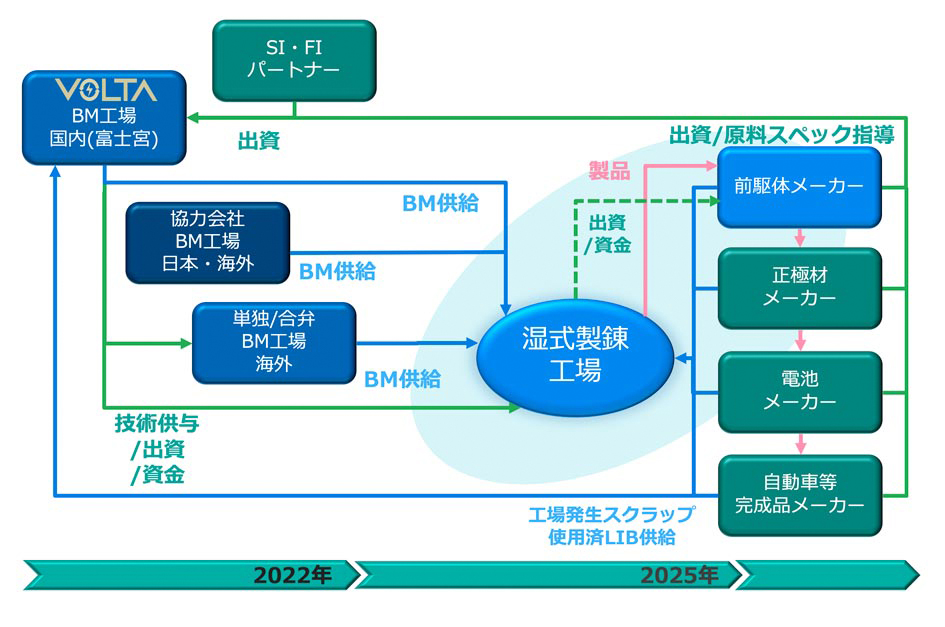 The following three processes are required to realize closed-loop from-battery-to-battery recycling.
①Pretreatment process to collect black mass (discharge, drying, shredding, sorting, etc.)
②A refining process to extract high-purity metals (cobalt sulfate, nickel sulfate, etc.) from the collected black mass.
③ Precursor manufacturing process to process high-purity metals into raw materials for battery active materials.
VOLTA Inc. plans to expand the existing black mass manufacturing plant in 2022, start operating a Hydrometallurgical plant in 2025, and then build a battery recycling system including precursor manufacturing. By taking charge of the recycling process in an integrated manner, traceability is ensured from manufacturing to disposal, and from disposal to manufacturing, making it possible to realize a circular economy with a closed-loop from-battery-to-battery system that is harmonized with industries in the forward (product supplying) logistics and reverse (recycling) logistics in the supply chain.